Discover the best B2B marketing channels for companies today. Plus, learn how your business can start using these B2B marketing channels to attract leads and revenue!
10 best B2B marketing channels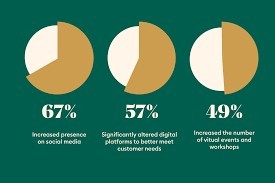 1. Search engine optimization (SEO)
Search engine optimization, or SEO, refers to several strategies designed to boost your website's rankings in search results for keywords and phrases related to your business.
For example, with this B2B marketing channel, you can create and publish original content related to your industry and include the keywords your audience is searching for in strategic places like your title tags, headings, and copy.
You can also reach out to other reputable websites to earn links to your content. The more links your site has from authority sources, the higher you'll be able to rank in search results.
Boosting your rankings in search results will help more people find you online, contact your business, and ultimately become customers.
2. Pay-per-click (PPC) advertising
Pay-per-click (PPC) is a popular online advertising model and B2B channel that allows marketers to bid for placement in a search engine's sponsored links.
With PPC, you bid on the keywords you want to trigger your ads. If your bid is among the highest, your ads will appear above organic search results. And as the name implies, one of the biggest benefits of PPC for B2B businesses is that you only pay when a user clicks your ad and visits your website.
PPC is extremely beneficial if you're looking to quickly boost traffic to your website because it can start attracting traffic and leads as soon as you launch a campaign. It can also help you maintain a presence in search results while you work to earn organic rankings.
3. Content marketing
Content marketing is a great B2B marketing channel and one of the most effective ways to reach new leads online. It involves creating original articles, infographics, blog posts, guides, and eBooks. You can also create and share visual content like photos and videos.
Custom content helps people learn more about your business, industry, and services. It can also position your company as a leader in your field, and people will be more likely to want to learn about your services if they read a helpful piece of content you created.
If you're new to content marketing, you can start by creating a blog. You can use your blog to write about industry trends, helpful tips, and anything else your target audience may find interesting. Even if this content doesn't immediately generate leads, it will be useful to a B2B prospect who may need your products or services in the future.
4. Web design
Your website is often the first point of interaction between your business and potential clients, and it needs to make a great impression.
Web design has a major influence on this impression and it also significantly impacts user experience. People expect to find information on your site quickly and easily, and custom web design can help.
The easier and more enjoyable it is to browse your website, the more time your visitors will spend reading your content and learning about your business. This also sends positive signals to search engines, which can help your SEO efforts.
5. Email marketing
Email marketing is an effective way to build and maintain rapport with potential clients. But unlike email marketing for B2C retailers, B2B email campaigns focus on providing information and building relationships.
Instead of highlighting products and sales, you can offer your subscribers insight, tips, and other information relevant to your industry with this B2B channel. And as your readers progress through the sales funnel, you can focus on how your company can help them solve specific problems or achieve certain goals.
If you're new to email marketing, you can begin with a weekly or monthly email newsletter. Your newsletters should be easy to read, informative, and regularly scheduled. You don't need to barrage your subscribers with sales pitches — a monthly email can be just enough to keep your business in their minds and encourage them to learn more about what you have to offer.
6. Videos
Creating and posting videos to your website can increase visitor engagement and boost the amount of time people spend on your pages. This digital marketing channel sends positive signals to search engines like Google and can help to improve your conversion rates.
YouTube is also a popular channel for B2B marketers because it allows them to get up close and personal with prospective clients. You can create videos about how your products and services work that provide viewers with instant, important, and practical information that they can use. In addition, you can create videos that feature interviews with clients, case studies, and explanations of new products or services.
Videos are a great way to answer frequently asked questions about your business, products, and services, and they can provide potential customers with the social proof they need to buy.
7. Social media
Social media is a valuable marketing channel for almost all businesses, and B2B companies are no exception. Even if you only post a few times per week, you can still engage and interact with potential clients.
Maintaining a social media presence also makes you more accessible and keeps your clients in the loop with your business. For example, you can post links to new content, informative articles, photos of company events, industry awards, and more.
8. Conversion rate optimization (CRO)
If you want to convert more visitors on your website, conversion rate optimization (CRO) can help.
CRO involves testing elements on your website to see which versions result in more conversions. For example, you can test multiple versions of a call to action button, with different colors or phrasing, and see which version generates the most clicks.
Testing and optimizing various elements of your website can help you get the most out of your web traffic, and ultimately earn more revenue for your company.
9. Webinars
Webinars are one of the newest ways to reach and engage with audiences online, and they're increasingly popular among B2B marketers as a B2B marketing channel. Hosting a webinar gives you the chance to present information, and it gives you the opportunity to engage with potential clients in real-time.
You can also publish your webinar on your site when it's over, and offer it as a resource for your visitors. This means you have the chance to generate traffic and leads from a one-time event for years to come.
Webinars can be either audio-only, or in video format. Audio webinars may or may not include visual aids like screenshots, slideshow presentations, or examples of data to back up the speaker's points.
Video webinars are great for presenters who are comfortable on camera, and they're also great for demonstrating a physical product or showing the benefits of a service.
10. Podcasts
Like webinars, podcasts allow you to conversationally discuss your business with your listeners. Some B2B companies offer downloads of podcasts on a weekly or monthly basis. Others restrict podcasts to special times of the year or use them to accompany new products or services.
If you're not sure what to talk about during your podcasts, you can cover industry trends, proprietary data, new initiatives, and virtually anything else relevant to your business. Not a dynamic speaker? The odds are pretty good that someone in your company enjoys speaking, so put their voice to good use!
Facebook Conversations
Disqus Conversations